Shadow of the Demon Lord, cos'è mai?
Se sei capitato qui per caso, dai un'occhiata al kickstarter che abbiamo fatto ormai da molti mesi e cerca su questo sito gli approfondimenti con i tag: 'Sodl', 'horror', 'Shadow of the Demon Lord'. Il gioco ha ormai una quarantina di supplementi e uscite in italiano, e se ne aggiungono ogni mese. Possiamo affermare che è il gioco di quest'anno, in casa Wyrd.
La stella del rifugio
Questa volta la mano che regge la culla della Fame nel Vuoto è di Monte Cook, il geniale e celebrato game designer americano vincitore di innumerevoli premi e creatore di sistemi e di mondi, che ha regalato una sua creazione all'amico Robert Schwalb proprio per Shadow of the Demon Lord.
La stella del rifugio è un'avventura per personaggi esperti, e sarà meglio apprezzata dai giocatori che prediligono fare ruolo e confrontarsi con difficili dilemmi morali. Ripropone l'idea che sta alla base di tutte le opere di Monte Cook, ovvero che spesso anche le soluzioni più funzionali implicano una buona dose di aspetti morali negativi.
In questa avventura, che sia in nome della popolazione dei villaggi vicini o per motivi propri, i personaggi cercano l'ingresso di un leggendario rifugio extradimensionale. Una volta che lo trovano, devono riuscire a entrare e decidere se pagare il prezzo oscuro richiesto dal padrone del rifugio per godere della sicurezza che promette. E una salvezza di questo genere non è da sottovalutare, se non per se stessi, almeno per le persone che ci sono care. Non dimentichiamo, infatti, che su Urth l'ombra del Signore dei Demoni si estende e non c'è salvezza per nessuno (per lo meno non nelle intenzioni del Signore Oscuro). Ci avviciniamo, con questa avventura, alla Desolazione, che sarà teatro delle prossime fantastiche uscite.
Monte Cook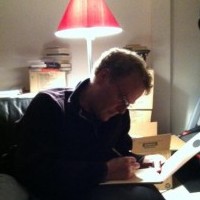 Monte Cook è il lead designer della Monte Cook Games e suo cofondatore. Dopo aver lavorato come scrittore professionista da più di 20 anni, Monte Cook può onestamente dire che non ha mai avuto un lavoro vero. Come scrittore di fantascienza, ha pubblicato numerosi racconti e romanzi, ha creato giochi e lavorato per ristrutturare sistemi. Ha frequentato sia il prestigioso SF &F writer's workshop Clarion West che il workshop Launchpad finanziato dalla NASA. Non bastasse, è anche autore di fumetti: ha scritto una serie limitata per la Marvel Comics chiamata Ptolus: Monte Cook's City by the Spire, e anche alcuni lavori più brevi. Come scrittore di saggistica, ha pubblicato fra il resto la Skeptic's Guide to Conspiracies, ironica ma informativa.
Il suo lavoro come game designer è forse più notevole. A partire dal 1988, ha scritto centinaia di libri per giochi di ruolo e articoli di gioco e ha vinto numerosi premi. Anche se ha iniziato a lavorare per Iron Crown Enterprises, gestendo le linee di gioco Rolemaster e Champions, ben presto è andato a lavorare per la TSR dove ha lavorato su Dungeons & Dragons, tutte le incarnazioni. Però Monte è probabilmente meglio conosciuto per D & D 3 ° edizione, che ha scritto con Jonathan Tweet e Skip Williams.
Nel 2001, ha fondato il proprio studio di design di giochi, Malhavoc Press, con il quale ha pubblicato prodotti importanti e premiati come Ptolus, Arcana Evolved, e la serie The Book of Eldritch Might. Come game designer freelance ha progettato Heroclix, Monte Cook's World of Darkness, e ha lavorato sul GDR Pathfinder, sul gioco multiplayer online di Marvel Comics , e su numerosi altri giochi e progetti correlati.
Poi è venuto Numenera, e il Cypher System. E Invisible Sun. E il resto, è storia…
Shadow of the Demon Lord ©2017 Schwalb Entertainment, LLC. Schwalb Entertainment, ed i loghi associati sono marchi registrati di Schwalb Entertainment, LLC. Tutti i personaggi di Schwalb Entertainment e relativi nomi, storie, tratti distintivi e caratteristiche, sono trademarks di Schwalb Entertainment, LLC. Shadow of the Demon Lord edizione Italiana © 2017 WMS Publishing sas. Wyrd Edizioni è un TM 2017 WMS Publishing sas. Tutti i diritti riservati. Qualsiasi riproduzione anche parziale, se non autorizzata, è severamente vietata.
E. Ingenito
Wyrd Edizioni
Jr Editor